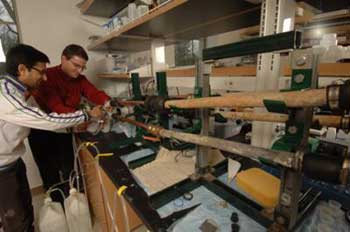 Lead is a useful metal. It doesn't rust, it bonds with organic materials like wood, it is strong, heavy, and easy to mold. The ancient Romans hammered it into cups and plates and water pipes. In fact, our word plumbing comes from the Latin word plumbus, meaning lead.
In the Middle Ages, lead played a role in the great explosion of learning. It was used in making type for the newly invented printing press. With the Industrial Revolution, lead became an important part of many manufacturing processes and products. In the early 20th century, it found a new application as a gasoline additive, greatly improving engine performance. Today, lead is used in thousands of manufactured products, as well as in construction. Americans use more than a million tons of it every year.
Lead Poisoning
As useful as lead is in human technology, the human body does not need even a minute amount of it. In fact, it's a poison. Ingesting a piece of lead the size of a person's fingernail can kill. Nausea and vomiting are followed by convulsions, coma, and finally, death.
Even in small amounts, lead can cause big trouble. The body takes four to six weeks to rid soft tissues of the metal after it is ingested. It can take up to 30 years for lead to leave the bones. Meanwhile, there may be temporary illness or even permanent harm.
Lead can damage the brain, liver, and kidneys. The symptoms of lead poisoning are many and varied. Lead interferes with the …