It's the time of the year again when it is not just festive but jolly too. People are always in a good mood and sharing is but a natural tendency for many especially that most employees receive bonuses to spend on gifts and good food. For those who have more than enough for their family, they don't hesitate to spread the love and good cheer by donating to charities and the less fortunate, so they too experience what the holiday spirit is all about. While it is not always about material stuff, we can't deny the fact that as human beings, we have material needs. We need to eat. That is a primary need and won't it be a little nicer if others can also get to eat more sumptuous food during one of the most special days of the year.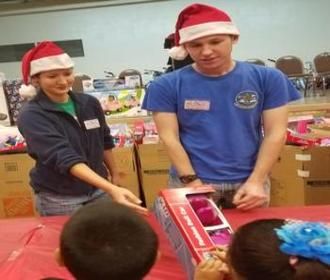 Charities are actually active all year-round. They are most active during times of disasters and during special occasions when a little kindness can go a long way in uplifting the lives of our less fortunate brothers and sisters. While it essentially benefits the impoverished, gift-giving and donating to charities also has its perks to the donors through tax credits. Yes, your good intentions and good deeds make a difference both to you and to your recipient. But of course, you have to donate to recognized and legit charities and not just anywhere if you want to receive some type of remuneration from the government afterward. However, if you want to share without any expectations, then you can give to anyone you want to who you feel needs help. There really is no limitation if your goal is to make a positive difference in this world.
As another year closes in Southern Arizona, many are looking forward to celebrating the holiday season (and the end of another fiscal year) with friends and family, though there are ways to express feelings of good spirit well beyond the holiday lights and exchange of gifts—and in many cases, you can do it without affecting the bottom line.

Charitable nonprofit organizations work throughout the community year-round to provide support for residents who are struggling through hard times. But with demand high, these groups need help to pay for services, supplies and staff to do their good deeds.

In the state of Arizona, residents can take advantage of a chartable tax credit which will incur no net cost on their personal budgets—and provide them with a deduction on their federal taxes. 
(Via: http://www.insidetucsonbusiness.com/news/the-season-of-giving-charitable-donations-help-local-causes/article_df5b976c-db65-11e7-82bc-ab7bf0e1dec2.html)
Although we know that the coming Christmas is just a good reason as any to share your blessings, lots of people need help every day on meeting the most basic of necessities but it always is a struggle to do it since organizations do not always have the resources on hand to do so. Most of them save up so they are ready to respond to critical situations like natural disasters. And since you have more money this Christmas, now is one of the best time to donate because you have spare cash on your account. You may not be able to do this next year when reality hits you hard again and meeting your family's needs is first on your list, so take advantage of your own blessings in order for you to be a blessing to others too.
Aldi posted a notice online which said: "As our stores will shut at 4pm on Christmas Eve until the 27th of December, we will have a variety of good quality surplus food products that we wish to redistribute in support of less fortunate individuals and to prevent food going to waste.

"We are unfortunately unable to deliver products on a locally, so it would be essential that your organisation is able to collect. We will expect the levels of food available to vary, however estimations of around 20-30 crates will be expected from each store. If you wish to collect all products available, we would therefore recommend providing a large car or van, or being prepared to make multiple journeys.

"However you are more than welcome to take as much of the products offered as you can use – you are not required to take all products. We would also ask to ensure that you bring appropriate collection containers (bags, crates, boxes, etc.) as we will only have a limited number of cardboard boxes potentially available for use."
(Via: http://www.birminghammail.co.uk/news/midlands-news/aldi-offers-christmas-eve-leftover-13984791)
Some people donate to charities and then there are some like Aldi who decide to make a difference in their own way. Nobody should go hungry especially on Christmas Eve and since their store is closing down for the holidays to allow their employees to relax and spend time and make memories with their loved ones. Rather than throw away food that might rot over the days that nobody will be working in the store, they are generously sharing it to individuals and organizations who want it so that it can be put to good use and fill up empty stomachs during the most wonderful time of the year.
You don't really have to be rich or influential to be able to make a difference in another person's life. Simple acts of random kindness can put a smile on other's faces and satiate their needs when they are unable to provide for themselves. All you need is a little heart and compassion and some of your blessings to make this Christmas more meaningful than the last.