Whether you like it or not, Donald Trump is the new U.S. president. It is hard to predict how the American economy will flourish under his leadership. As early as now, though, economists think that Trump's take on immigration, budget, and trade do not make sense.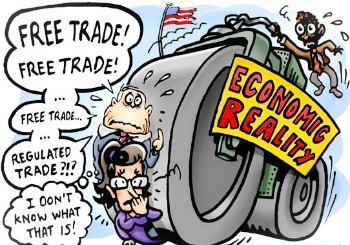 Soon dubbed as "Trumponomics", the public was excited about his economic plans. But economists are worried and anxious since the changes he has in mind has a big impact on the country's economy. CNBC shared this story.
American business economists think that President Donald Trump's effort to restrict immigration is a bad idea.

And they think the current health insurance system should be replaced by one that gives consumers more choice and control, with tax credits to support the cost of insurance.

Those are the findings of a survey of some 285 economists released Monday by the National Association for Business Economics.

The group also thinks Trump's proposal to scrap the North American Free Trade Agreement is a step in the wrong direction.

Roughly 7 in 10 of those surveyed said the U.S. should set up import barriers only "occasionally and tactically, when vital industries are threatened by unfair trade practices." Another 27 percent said there should "never" be barriers to entry of imports to the U.S.
(Via: http://www.cnbc.com/2017/03/06/economists-think-trump-is-wrong-on-budget-trade-obamacare-and-immigration.html)
The economy is in a better shape now than it did eight years ago when former President Obama assumed office but Trump has even bolder plans to make America great again. He may have high hopes in repealing Obamacare …