Equality will always be the subject of many heated debates and arguments from then until now. While there are many things that divide people these days, there are still apparently some common denominators that bridge the gap between the rich and poor, gifted and not, or healthy and sickly. The arts will always be that bridge that continues to connect and inspire people of all walks of life.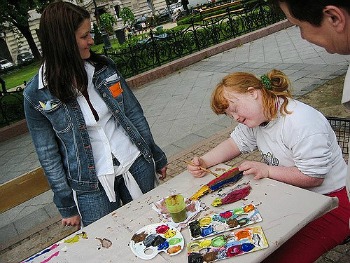 Who says that you can't appreciate the arts if you have a disability? You may be lacking in a sense or two but other senses are heightened to make up for what you don't have. Dabbling with the arts gives differently-abled individuals a newfound freedom to express themselves without being limited by their disabilities. It also allows them to experience a sense of belongingness to the craft and other artists especially to the ones with disabilities themselves.
Being blind yet creating visual arts is just one of the many achievements made possible thanks to the work of the disability charity Open Arts.

And now as part of its 25th anniversary celebrations this year, the charity is giving everyone a chance to see the great work being produced at its art classes with a unique exhibition throughout the month in the Black Box, Belfast.

Embroidery, watercolour and action painting are just some of the techniques which will be showcased in the Three in One exhibition, featuring artwork created by people attending three weekly visual arts groups run by Open Arts.

Eileen Branagh, chief executive of Open Arts, says: "Our artists do not let their disabilities hold them back and this exhibition demonstrates that, given the right support and encouragement, there are no limits to their creativity."
(Via: http://www.belfasttelegraph.co.uk/entertainment/theatre-arts/wellbeing-and-health-how-art-has-given-us-our-lives-back-35796613.html)
Today, people with disabilities try to break out of the stigma that they can never be productive members of society by showing their potential through various artworks and artistic expressions. At times, you can never tell for yourself that such an art piece was created by a disabled person because creativity and talent aren't just for healthy people, after all.
The exhibition aims to raise awareness, challenge perceptions and reduce stigma surrounding both physical disability and mental health, whilst also addressing accessibility within the visual arts through a programme of events. Through the exhibition, organisers hope to raise awareness of the work that disabled artists can produce regardless of the limitations that society places upon them, recognising that disabled people should have the opportunity to participate fully in the arts. Curated by Arts for Health Milton Keynes in partnership with MKDAD and centre.mk, the exhibition showcases 50 works, to coincide with the MK50 celebrations.
(Via: http://www.miltonkeynes.co.uk/news/now-you-see-me-exhibition-to-showcase-work-by-disabled-artists-1-7996688)
There is actually such a thing as a disability in the arts. Not just limited to artworks, it encompasses visual arts and theatrical performances where the stars are disabled individuals. The arts also serve as an outlet where disabled people can vent out their inner feelings or have it function as an expressive therapy. Some genius and notable people in history were surprisingly individuals with disabilities too. Take for instance Beethoven who eventually went deaf but was still able to create enduring and beautiful music despite his disability.
Off the Record was the second production in a Carriageworks project called New Normal, devised to showcase disability in the arts in 10 productions across three years. The first program, Simple Infinity, directed by Urban Theatre Projects' Rosie Dennis, premiered last July. Next up, in September, is a collaboration between Studio A, which supports visual artists with disabilities, and Erth Visual & Physical Inc called Bird Fox Monster, billed as a "series of experiences, performances, sculpture works and installations framed around a three-course meal carefully designed to connect all five senses".

Carriageworks received $100,000 for the project, out of the $475,000 allocated by the NSW government in 2015 for support programs that "promote social inclusion through the arts and disability sector". Disability services minister John Ajaka announced the allocation. And therein lies one of the conundrums of this burgeoning artistic field: is it about equity and access, about therapy and education, or about art for art's sake?
(Via: http://www.theaustralian.com.au/arts/review/disabled-artists-seek-to-be-judged-on-their-talents/news-story/15c59887573b0e7926a60498c82e63ee)
These days, technology plays a big role in how disabled individuals further explore their artistic talents. Examples are assistive or adaptive technologies that allow the disabled to enjoy the visual arts. However, it is not always easy for them to go out of their comfort zones as not everyone in society understands their situation. But still, expressing their artistic side is a great way to gradually break out of the stigma and regain the confidence they lost when they lost their senses. You have no idea what it is like to live in their shoes, so be more appreciative of their effort in living life to the fullest despite their many physical limitations.