Today is a new era in American politics – the Trump Era. Along with this new presidency are many new policies that are set to shape the future of this country. It will not only affect the common people, and discriminated against minorities, but major business establishments too. After all, President Trump is a renowned businessman himself with multi-million business ventures both in and out of the country.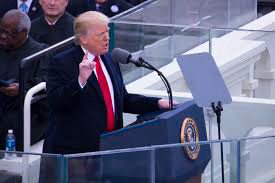 What can businesses expect from his leadership? Will it propel the economic progress the country has gradually achieved over the years or be the cause of yet another difficult recession because of his outrageous fiscal policies that can affect the many U.S. external relations?
When it comes to President Donald Trump's constellation of foreign investments, properties, and companies, much of the attention so far has been on his business's apparent violation of the Constitution's Emoluments Clause, which bars officeholders from taking gifts from foreign leaders. According to numerous ethics experts, the clause takes an expansive definition of gifts, encompassing everything from a direct bribe to a foreign official's approval of construction of a new Trump property. But some of the Trump Organization's properties raise additional red flags due to the specific partners involved. That's true in Indonesia, for example, where Trump's affiliates have been involved in bribery scandals and radical Islamic nationalist parties, and Brazil, where the company pulled out of a branding agreement amid a criminal investigation of a local business partner.
Controversies are surrounding his administration right from the very start.
This, then, is the situation in which the Trump Organization—and, by extension, the president, who has stepped down from his position within the business but who retains ownership—finds itself in Azerbaijan: The company's direct partner on Trump Tower Baku is the scion of a wealthy and notoriously corrupt family that appears to have only stepped up its self-dealing as its political power wanes. That family is engaged in what appears to be a relationship of mutual graft with Iranian oligarchs with deep connections to their country's Revolutionary Guard, the ideological militia widely suspected by the international community of gross corruption and sponsoring terror at home and abroad.
(Via: https://www.theatlantic.com/business/archive/2017/03/donald-trump-conflicts-of-interests/508382/)
And this is just the beginning of four long years of erratic statements and policies that can either make or break earlier good relations the country has established with other nations – not just with China but many other nations like Japan, Canada, Europe, etc.
"Reciprocity" has become the new buzzword in the U.S. business community in China, with some industry leaders saying they would welcome a tougher approach from the Trump administration in opening up the markets of the world's second-largest economy.
(Via: http://www.reuters.com/article/us-china-usa-business-idUSKBN15U00H)
The new administration should exercise more caution in issuing statements or policies that can significantly impact the country's economy. After all, President Trump is known to have a way with words, although not always on the positive side, so it just makes sense for his advisers to guide him in making the best decisions that are for the best interest of every single American who counts on his leadership to make America great again.
China's government has a selection of policy tools that can respond to any potentially hostile trade or economic policies by US President Donald Trump, said Li Daokui, a prominent economist and a former member of the Chinese central bank's monetary policy committee.

"The central government is prepared for Trump," Li told the South China Morning Post outside a meeting of the National People's Congress in Beijing. "What's important is not what Trump says, but what his team says. The government has regular communications" with officials of the Trump administration, he said.

Any US protectionist economic measures or trade sanctions can be responded in kind, Li said.

The Chinese government can also apply pressure on American businesses in China, such as last December's fine on General Motors Co.'s Chinese venture, he said.
(Via: http://www.cnbc.com/2017/03/05/us-businesses-may-suffer-in-tit-for-tat-trade-war-with-china-advisor-says.html)
The U.S. will suffer greatly if this conflict with the Chinese worsens considering our economy greatly relies on Chinese imports aside from the fact that many big American companies and corporations have manufacturing plants in China because of cheaper labor. There is more at stake here but let us put our faith on President Trump to deliver his promise and put the interests of the country before his – or any of his businesses despite his many quirks and eccentricities.