For the longest time, it has been difficult for Asian artists to penetrate the Western world. Success in America, for instance, continues to elude them as Americans, in general, won't give them the time of day or have no appreciation for their music or artistry at all. But that was before. Thanks to technology and rapid globalization, diversity is more widely accepted now and people start to appreciate other cultures than people did in the past. If there is one particular trend that is taking the US by storm, that is KPop. If you look at the numbers, they've been making waves in music charts, radio plays, and even digital and actual album sales in various US states.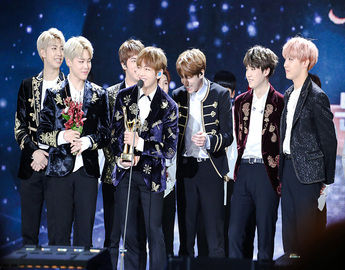 South Korea, in general, did very well in importing the Hallyu wave a.k.a. the growing globalization of KPop. There are KPop fans now all over America and in other parts of the world. Fandoms grow in number each year as KPop idols gradually become household names outside of Korea. Even the Billboard has been overtaken by KPop idols with BTS in the forefront having stayed in the HOT 100 for a month where they even won the Top Social Artist this year beating Justin Bieber and Selene Gomez who are undeniably among the top superstars in the US today. BTS also recently released their recent comeback with a mini-album "Her" that hit #1 on the iTunes chart in 73 countries. It is a feat that not all Western performers are actually capable of doing but something that the group has been known to do more often now. They keep on making and breaking records. The music video for their recent title track "DNA" was viewed over 20 million times during its first 24 hours of release.
When people talk about America's impact on K-pop, they're usually talking about the music. From boy bands to hip-hop to rock, the origin of K-pop's sound is thoroughly American. But it's also likely that American TV largely influenced the multi-medium's emphasis on visuals, whereby dance, fashion and "concepts" are inextricably tied to the definition of K-pop.

According to Dr. Suk-Young Kim, a professor at the University of California, Los Angeles, MTV was first imported to Korea around the same time as the birth of K-pop. "In the mid-'90s when [father of modern K-pop] Seo Taiji and the Boys became sensational hits, that's when music videos also started gaining traction in the Korean consumer market," she explains to Billboard over the phone. (Notably, one of the Boys, Yang Hyun-suk, later founded YG Entertainment, the Big 3 company that jump-started the careers of chart-topping K-pop acts like Psy, BIGBANGand 2NE1.)
(Via: http://www.billboard.com/articles/columns/k-town/7990486/korean-music-shows-mtv-trl-bts-history)
Many Americans join different fandoms of their idols and even got enamored with KDrama as well. In turn, this becomes a newfound obsession where fans can't help but purchase related merchandise to make them feel closer to their idols. It is very clear now that Kpop has finally made it to US shores and they can only grow bigger and rise in popularity as they continue to break into the mainstream American entertainment scene.
BTS is once again proving their power as the top social artist; this time on Google. 

For the month of September, BTS ranked #7 on Google's most searched musical artist in the United States. Not only is BTS the only K-Pop act to make it on the top 20, but they've also ranked above popular Western artists such as Drake, Selena Gomez, Lady Gaga, Eminem, Miley Cyrus, and more. 

The boy group's phenomenal comeback with the new album 'Love Yourself: Her' and title track "DNA" are the suspected factors that led to their domination on the worldwide search engine. 
(Via: https://www.allkpop.com/article/2017/10/bts-enters-the-top-10-most-searched-musical-artist-on-google)
KPop's popularity and influence can be seen everywhere and this is most apparent in social media where they have proven to be tech-savvy and followed by millions of their most loyal fans. Indeed, their striking visuals and multitude of talents have captured the heart of many Americans and it only kept them wanting for more. An annual KCon or Korean Convention is done yearly now where Korean idols are brought to the US to perform and engage in various activities with their US-based fans. Without a doubt, nothing is stopping the Hallyu wave and the US will definitely be seeing more of these Korean acts mainstream as the cultural boundaries have long since been broken.