There are many places in the world that struggle with political strife for a long time now despite the many tech advancements we are now enjoying. It is such an irony that human beings still can't reconcile many of their differences that end up in violence or even more violence. There really is no way out here without suffering many casualties. Freedom is often the cause that people are fighting for, which they can't always get without bloodshed. Many countries in the Middle East suffered the same fate and are now but left in ashes and a picture of poverty and despair.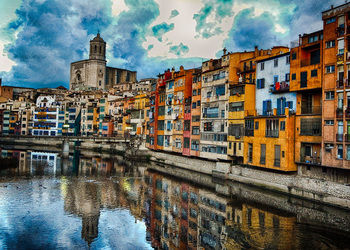 Even in Europe, a continent known for its power, affluence, and peace, conflict is still present and is a threat to the peace the region enjoys. Spain, for instance, faces the same problem faced by some countries that are politically oppressed and became battlegrounds of modern warfare. Catalonia has long since wanted to be independent of Spain but their pleas fell on deaf ears until now. European organizations appear to be at risk. Many protests escalate quickly and end up with street violence that disrupts the unity and stability enjoyed by most European nations.
The leader of Spain's Catalonia region called Monday for help from European leaders in working out the region's move to be independent.

The request comes a day after a violent crackdown by Spanish police trying to block Catalonians from voting on whether they wanted to separate from Spain.

Catalan leader Carles Puigdemont said he would file a complaint against Spanish police after officers fired rubber bullets, smashed into polling stations Sunday and beat back protesters with batons. Puigdemont urged Spain's national police reinforcements to leave the area.

Spanish authorities said police acted professionally. And Spain's interior minister said that the 5,000 extra officers sent to Catalonia would stay as long as necessary.
(Via: https://www.washingtonpost.com/lifestyle/catalonia-asks-europe-to-help-resolve-its-fight-with-spanish-government/2017/10/02/dcb44088-a788-11e7-850e-2bdd1236be5d_story.html?utm_term=.ada65dd62710)
Spain's resolute attempt in preventing Catalonia from gaining its independence continues to earn the ire and disapproval of Catalonians to think that the majority of voters actually want to separate from Spain for good. And it is not just the Spanish government that agrees with this decision. Other European nations also support it since they want to prevent the same thing from happening in other places in the region, which is likely possible if they let the Catalans get what they want.
Catalonia's pro-independence regional government said Spain is "the shame of Europe" for the way it has cracked down on the region's bid to hold a secession referendum.

Government spokesman Jordi Turull says "what the police are doing is simply savage, it's an international scandal."

The Catalan government's health service says 465 people have been treated in hospitals following clashes Sunday with police who were ordered by a regional judge to prevent the independence referendum from taking place. Turull said two of the injured were in serious condition.

He said "Today, Spain is the shame of Europe."
(Via: https://www.dailysabah.com/europe/2017/10/01/catalan-government-says-spain-is-the-shame-of-europe)
The Catalonians continue to fight for their independence and even if they call foul on the Spanish government, they still won't be able to earn the support of neighboring nations so as not to set a precedent that others can follow and mitigate other coups from happening. What the Catalonians are doing right now is actually considered as the first official coup in the European Union's history and that is really a major thing. Dissent is not new but it is not welcome either.
As Catalonia struggles to get what they want, they would likely face bigger challenges and they do not even have an assurance they'd get what they wished for with only themselves on their side. However, the Catalonian's aren't even the aggrieved party here all the time since they are at fault too. Many times they have broken the law and caused chaos in Spain rather than lend a helping hand for its progress. They can only wish to pull off the same thing as Brexit because they are poles apart and Spain won't likely just let them leave without putting up a good fight.