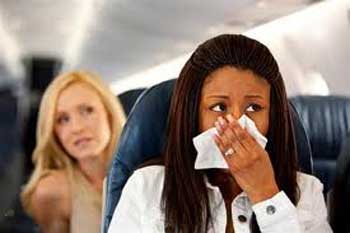 At this time of the year, it's tantalizing to imagine lounging in the shade of a tall palm tree, looking over the shimmering waters of a tropical ocean. You watch gulls swooping down over the waves and porpoises leaping playfully in rhythmic patterns. As you slowly sip on an ice-cold lemonade, you think, "This is paradise!"
Paradise it may well be, but even paradise has its hazards. One of them is the possibility of contracting a travel disease. Such diseases range from mild malaise due to jet lag to disabling dengue fever. However, smart travelers can usually avoid illness by finding out before they go what diseases they may be exposed to while traveling.
Jet Lag
Going to places like Canada, Europe, Australia, or New Zealand poses very few health risks for most travelers. Nevertheless, people traveling by plane across the Atlantic or Pacific Ocean may suffer from jet lag. This condition occurs when the body's internal clock is out of sync with local time.
A simple example will show how a long plane ride can wreak havoc with the body. Pretend you are traveling to Rome. The plane ride from New York City to Rome is 8 1/2 hours long. Rome is six hours ahead of New York timewise. That means if you take off from New York at 5 p.m., you will land in Rome at 7:30 a.m. the next morning (Roman time). The city will be busy and noisy. If you were on a Roman schedule, you would probably be …